9 effective tips on how to make a Ukrainian girl fall in love and date you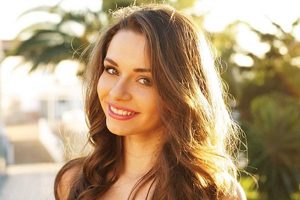 A date with a Ukrainian beauty for most people is like a dream come true.
No matter what the situation is, you must try to impress your girl and date her. Love has no boundary.
Sometimes it may be hard to win the heart of a girl, especially when she is not from the same country as you.You need to super convince her of your intentions and hope she feels exactly the same way. Winning the heart of a Ukrainian girl isn't hard if you know the right buttons to press.You might not be that handsome or possess a lot of property; however, if a Ukrainian girl falls in love with you, you can be sure of one thing—she will follow you to whatever continent. On the flip side, if she doesn't love you, your money and efforts will amount to nothing.
The tips we are going to offer here are for real guys who care and are nice. This is not for guys who swap girls as often as they change their socks. These tips are meant only for guys dreaming to have Ukrainian girls for dating. If you are not in this category, this post isn't for you.
Tips to Win the Heart of a Ukrainian Girl
Winning the heart of a Ukrainian girl is easy as ABC if you play by the rules. If you are ready to win her heart, then let us unveil these tips.
Don't look like a desperate man; be a gentleman
Everyone understands perfectly well why girls and boys meet – for conversation, sex, understanding, and to develop a relationship. Nevertheless, if every time you meet Ukrainian girls for dating your entire discussion centers on sex, you are acting like a desperate man. First things first, you have to win her heart. Only then will she devote herself and her time to you. Therefore, when you want to win the heart of a Ukrainian, you must be more of a gentleman and exhibit patience during communication.
Pick a perfect location for a date
It is not enough to look forward to meeting Ukrainian girls for dating; you must pick the perfect location to help you win her heart. Never forget this second tip because most girls are more willing to visit their favorite place rather than go to a café or cinemas.
Your communication with her over time before planning a date will play a vital role in picking the right place. Just because most men choose the café or park for their date doesn't mean you have to do the same. You should know her preference if you communicate with her properly. This is one primary factor if you want to win the heart of a girl. Find out how she loves to spend her time, what hobbies she has, what inspires her, and the activities she loves doing. Remember when picking a place for your date to calculate your budget because that is what intelligent men do.
Choose compliments wisely
Compliments are something that girls want to hear. To use this to your advantage, you must choose the compliments you give to a Ukrainian girl wisely, or else you might just lose her completely. Compliments shouldn't be clumsy or vulgar. Give compliments in areas where she remains confident without you physically present. Observe moments in her life and find things to compliment her on.
Don't compare her to anyone
You must never joke with this tip if you want to win the heart of a Ukrainian girl. Never make a comparison of her to your ex-girlfriend or anyone in a bad way. If you do that, you are neglecting her uniqueness and the fact that every girl is special. If you are tempted to make a comparison, it is time to keep silent and act like the gentleman you are. If you do otherwise, you are digging your own grave.
Be bold enough to meet her family members
Most guys are scared of meeting the parents of their girlfriend. It is logical if they aren't ready for any commitment. Nevertheless, for a Ukrainian girl, meeting her family is a step to winning her heart. Doing that will make her feel relaxed and confident about your sincerity regarding the relationship. Don't forget that once her parents like you, you have won her heart already. It is important to meet her parents as she will feel valued from your interest in her.
Display your kitchen skills
There is nothing more heart-touching for a girl than to see her man do the cooking while she watches. You don't need to hide your kitchen skills. Prove to her that you care about her. The food may not be very appetizing, but she will appreciate the intention of you cooking for her.
Don't undermine her integrity and trust
You can never win the heart of a Ukrainian girl if she lacks confidence in you. There isn't anything bad about talking with other girls, but be careful. You shouldn't go around flirting and chatting unnecessarily. Once she finds out what you are doing, it will be hard for her to forget about it even though she may forgive you. Winning the heart of a girl starts with trust. Don't forget this next time you seek Ukrainian girls for dating.
Congratulate her for her achievements
Irrespective of what happens or where you are, if she achieves something important for her, you should congratulate her. Make such congratulations special in a way that nobody has ever done for her before. One thing is true about girls: they like surprises. This doesn't mean you will buy the most expensive gifts. The primary aim is winning her heart, and this is possible by keeping that element of surprise.
Don't keep her locked up in a cage
Most girls like guys that can provide guidance. However, there is a thin line here that you need to not cross. You have to make sure you are not too controlling. For instance, if she wants to meet up with her friends or take a walk, you should give her your blessing. She doesn't have to spend the entire day with you. The case is different if that is what she wants to do.
Apply these simple tips and you will surely win the heart of any Ukrainian girl. Remember to play by the rules.
[wpseo_map max_number="undefined" width="400″ height="300″ zoom="-1″ map_style="roadmap" scrollable="1″ draggable="1″ show_route="0″ show_state="0″ show_url="1″]
[wpseo_address oneline="1″ show_state="0″ show_country="1″ show_phone="1″ show_phone_2="0″ show_fax="0″ show_email="1″ show_url="1″ show_logo="1″]