Dream One Love – The Place to Find Gorgeous Russian and Ukrainian Women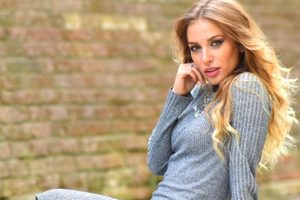 The popularity of online dating has grown tremendously. In fact, there is almost no social stigma attached to online dating these days. The good thing is there is a wide variety of dating websites, and you can easily sign up for any of them that offer the services you are looking for.
Unfortunately, not all dating websites are created equal. While some are great and will easily connect you to your perfect match, some are absolutely sleazy. For you to have the best experience while finding the type of woman you are looking for, you need to find a reputable website that is the right one for you.
If you don't have the time to conduct a thorough search for a good dating website, you can simply sign up to Dream One Love, especially if you are looking to find beautiful single ladies from Russia and Ukraine. Many American men love dating Russian and Ukrainian girls. If you are among these men, then you should look no further than Dream One Love. We are here to make your dream come true without a hassle.
Features of a great dating website
Protects users
A great dating site must protect the users. You don't want a site that doesn't protect you from abuse. You also don't want to use a dating website that doesn't protect your identity. A dating website that fully protects you gives you total freedom to interact freely with other subscribers and users without having to worry about being mistreated by anyone. That is where Dream One Love beats all other dating sites, especially those that are helping single Ukrainian and Russian ladies connect with and find men of their dreams.
Subscribe to Dream One Love today and find elegant and well-cultured single women from Ukraine and Russia. The communication between you and these women will remain a secret, and there are no chances of anyone stealing your identity.
Has verified members
The best dating sites have verified members. By this I mean that they have verified contact information, including a phone number, email address, physical address and real photos. This eliminates the potential for abuse and deceit.
Unlike many other dating websites that offer men the opportunity to connect, date and meet single girls from Russia and Ukraine, Dream One Love has verified users and subscribers. No wonder most USA men are using it to meet their dream women. This dating site is meant for girls from Russia and Ukraine only. So, if you have been dreaming of dating a woman from these great places, your dream is just a click away. You have an added advantage if you are coming from America because you are the type of man these ladies prefer.
A good dating site looks for real profiles. And that's one of the good things about the Dream One Love dating site. This website does manual searches to ensure that users and subscribers provide their real profiles. In other words, there are people checking each profile manually to block any scammers. The site also uses a number of databases to search for IP's and scammers. They use some very effective tools to detect any scammers and fakers.
Provides a unique subscriber/consumer experience
Let's be honest, when you decide to go to a dating site, you just want to date, not watch tutorial videos and get dating advice and so on. However, it is very important that the site has such information anyway. This kind of information helps you know what features you can explore, what choices you have, and how you can be more successful.
A dating site with distinctive features will provide you with a better experience. The Dream One Love website provides you with a unique experience. You will find videos for members and video tutorials, something that you won't find on other dating websites. This is one of the many reasons why you should subscribe to this site. You can always login at anytime and read blogs, watch tutorial videos, and get tips on how to increase your chances of finding your ideal Ukrainian or Russian single woman. To do so, use the dream singles login at https://dreamonelove.com/ to get services and more information.
Reasons why you should subscribe to the Dream One Love dating site
There are very many reasons why a good number of American men prefer using the Dream One Love dating site. Here are just a few of those reasons:
Beautiful Russian and Ukrainian women
This dating site is meant for men, especially those from the USA, who are looking to find beautiful, real Russian and Ukrainian singles. As you know, women from this side of the world have earned their reputation among American men as the best life partners a gentleman can have in his life.
The site provides you with lots of sexy women to get to know and choose from. With such a great selection, you will definitely find a perfect woman for you.
Great communication options
The website provides users with excellent communication options. Dream singles login is even possible on a smartphone.
How to log in
Dream singles login is as easy as visiting https://dreamonelove.com/ and following the easy-to-follow login procedure. Just like that, you will find single beauties from Russia and Ukraine who are looking to find great men like you.
Evaluating a dating website is the most important step you must take before you sign up or log in to any site. It will help you find the best site that will connect you with your perfect match quickly and easily.
[wpseo_map max_number="undefined" width="400″ height="300″ zoom="-1″ map_style="roadmap" scrollable="1″ draggable="1″ show_route="0″ show_state="0″ show_url="1″ show_email="1″]
[wpseo_address show_state="1″ show_country="1″ show_phone="1″ show_phone_2="1″ show_fax="1″ show_email="1″ show_url="1″ show_logo="1″]