SANPAOLO is cozy restaurant of author's cuisine in the heart of Kiev.
If you are looking for ideal place for dating SANPAOLO restaurant is the right place for you.
SANPAOLO restaurant is cozy institution of author's cuisine in the heart of Kiev. SANPAOLO has a stylish interior, attentive and helpful staff, a free atmosphere that will give you pleasure. A restaurant where you can truly relax. The space of the restaurant corresponds to what kind of rest you choose for yourself.
In the avenue Muzeyn, near the metro station "Khreschatyk" is a two-storey restaurant "Sanpaolo", which has four rooms, two summer playgrounds, a private greenhouse, where vegetables and greens are grown, as well as a mill for the production of organic grain flour. The interior of the restaurant is natural texture of black wood, white brick and living plants. In the halls – soft sofas of sandy, purple and olive tones and original lights in the form of jellyfish. The menu includes author's European and vegetarian dishes, as well as a menu of pan-Asian cuisine. The pride of the institution is the bread of its own baking. An extensive wine list is presented.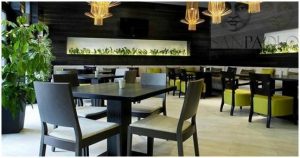 SANPAOLO is the most accurate synonym for harmony, where you can disengage from everyday fuss and hold an unforgettable meeting. The staff guarantees a professional and individual approach to each guest.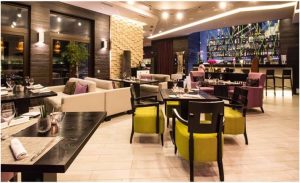 The restaurant SANPAOLO has a cozy atmosphere, a cuisine from the chef which includes dishes from different parts of Europe and author's desserts. We follow the culinary trends, and provide everything at the highest level.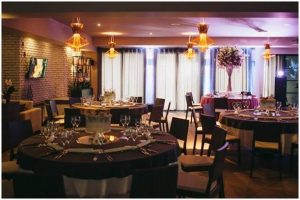 Home-baked bread is the pride of the restaurant. It is baked according to special recipes from flour, ground on its own mill from organic grain.
The interior has a subtle European taste: restrained luxury with a touch of minimalism.
Natural textures of ebony, white brick and live plants.
We are always glad to see you in SANPAOLO
Museum lane, 4, Kyiv
+38044 290 9800
instagram.com/sanpaolo_restaurant