What u needs to know before going to propose?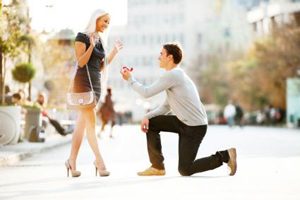 What u needs to know before going to propose her who doesn't want to be loved, and who doesn't want a lady friend. If you really want her by your side and want to spend the rest of the life with then what are you waiting for, pop out a question to her. If you want to get good grades you always have to do some homework.
Don't get serious it's just that you need to get your facts right. I think women are the sweetest creatures on the other you are going to deal with. They already have to deal with so many things from the home work to the child work. Here are some questions you need to ask before popping out a final question.
. Can we spend 1 year together without getting married 0. Ask her about the jobs and income.
. Ask her about cooking and cleaning, Is she comfortable with all these.
 Ask her if she wants to continue her study after marriage or not, this will make a good impression of you. 0. Ask her about living in a joint family system.
 Ask her about the time limit for having children, more than 3 years or less, mostly women don't want to go more than 3 years.
. You need to make a environment in order to know her behavior, nature at certain points.
. You need to know about her social activities either she is person who like to stay at home or hang around.
. You need to know about requirements of her daily life.
. Last but the not least and very important, you need to know about the
love and passion
, respect she feels for you.